Asbestos & Hazardous Materials Surveys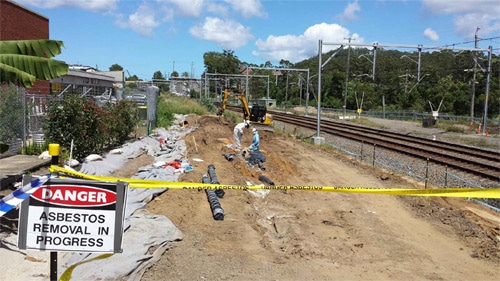 ADE has a large team of highly experienced Licensed Asbestos Assessors and hazardous materials consultants based in Sydney, Newcastle, Brisbane and Melbourne, giving us the scope we need to undertake hazardous materials surveys and investigations throughout Australia.
We are passionate about providing the right outcomes for our clients, and also for supporting safe and sustainable communities. To achieve these dual aims, we deploy Licensed Asbestos Assessors with a strong background in Occupational Hygiene, who will provide tailored support in pursuit of your objectives. Our asbestos surveys and reports ensure compliance with your state's asbestos legislation and integrate with your business' current procedures and protocols.
ADE's own in-house NATA accredited laboratory (Sydney Laboratory Services) allows for rapid response and fast reporting turnaround time. In special cases, ADE can provide your Asbestos Survey Report the following working day, if required.
Surveys and Tests We Provide
Asbestos materials surveys and reports, including sampling and laboratory analysis
Hazardous materials surveys, sampling and laboratory analysis
Identification of asbestos, lead in paint, lead in dust, Synthetic Mineral Fibre (SMF), Polychlorinated Biphenyls (PCBs), and ozone depleting substances
Lead air monitoring
SMF air monitoring
Hazardous materials remediation and project management
NATA accredited laboratory services
Respiratory equipment fit tests
Our Asbestos Reports Include
Scope of Work – defines the scope of the inspection
Asbestos Register – contains the results of the survey in an easy to read format, indicating the location, type, extent and conditions of any hazardous materials detected
Analysis Results – summarises the laboratory results of samples collected during the inspection
Management Plan / Work Plan – includes recommended type of action for any asbestos materials identified
The Asbestos Materials Survey Reports comply with the following acts and codes of practices:
Work Health And Safety Regulation 2017
Work Health And Safety Act 2017
AS2601 (2001) The Demolition of Structures
NSW Code of Practice: How to Manage and Control Asbestos in the Workplace
NSW Code of Practice: How to Safely Remove Asbestos
Laboratory Accreditations
ISO 17025 NATA accredited testing laboratory for:
Qualitative Identification of Asbestos, SMF and Organic bulk samples
Membrane Filter Method for Estimating Airborne Asbestos
Lead by AES (microwave plasma) using in-house ESA-MP-O5