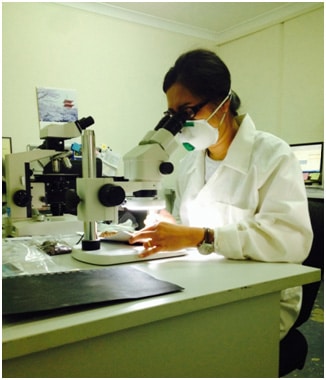 ADE analyses air samples in our own in-house NATA accredited laboratory in Sydney and offers asbestos air monitoring services before, during and following the completion of work on materials containing asbestos. Our consultants (based in Sydney, Melbourne, Newcastle and Brisbane) can design an asbestos air monitoring solution that will suit your specific needs.
1. Background Monitoring
Background air monitoring can take place in two common situations. Firstly, if work on asbestos containing materials is about to commence, air monitoring can be conducted prior to this occurring to indicate if any other fibres are present. Secondly, if there are concerns that suspected asbestos or asbestos containing materials have been damaged, background air monitoring can help assess the potential risk. In this instance, background air monitoring would generally be conducted in combination with a visual inspection of the subject area.
2. Exposure Monitoring
Exposure monitoring involves taking repeated samples of the air quality to measure the extent to which an individual would be exposed to airborne asbestos. This measure is designed to be employed for the sampling of airborne asbestos fibres in occupational environments where it is known that regular exposure to asbestos occurs. In order to provide an accurate reading, the pumps should be run in the background with minimal interference to the normal activities that would take place there. Alternatively, a filter holder can be attached to the worker's clothing. In this way, conditions are indicative of an individual's standard exposure to airborne asbestos fibres. The results obtained are then compared with the national exposure standard to determine whether the exposure levels are within an acceptable range.
3. Control Monitoring
Asbestos control monitoring is conducted to analyse the efficacy of control measures enacted during work on asbestos containing materials. Control monitoring uses static or positional air monitors at fixed points, generally between one to two metres above floor level, to measure the level of airborne asbestos fibres. Appropriate locations to carry out control monitoring include:
Outside asbestos removal and encapsulating areas
At the clean end of asbestos decontamination units
Inside buildings or structure which contain asbestos
As control monitoring is intended to monitor the success of containment measures during removal, the results should not be taken as representative of actual occupational exposure. Moreover, unlike the exposure monitoring, these results cannot be compared against the national exposure standard.
4. Clearance Monitoring
Clearance Monitoring is undertaken following the completion of work on asbestos containing material and the area has been decontaminated and dried. For an area to receive clearance, the level of airborne asbestos fibres must be measured as below 0.01 fibres/ml. Clearance monitoring forms a critical part of an occupational hygienist's clearance inspection and their ability to declare the subject area safe.